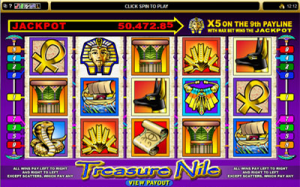 Microgaming is thrilled to reveal that a punter playing its Treasure Nile progressive slot game on Thursday, 10th December, 2015, managed to hit the game's progressive jackpot which saw the player winning a massive sum of $115,090.
Details of this huge win have not yet been released but it has been confirmed that it is the 125th win recorded for the game since December, 2009. The progressive jackpot on the Treasure Nile slot game pays out, on average, an amount of $92,337 and is won every two weeks. The largest win on record for this slot game is the sum of $360,506 which was won by a lucky player in December of 2012.
Treasure Nile Slot is a 5 reel (progressive) and 9 pay line video slot game that comes with a Wild symbol, which is the Wild Pyramids symbol that can be used to complete winning combinations for everything with the exception of the Scatters. The Wild does not serve as a multiplier in this slot game for any of the winning combinations that it is part of.
The most coins players can wager are nine and the slot game has a fixed coin size of 50. With nine pay lines and a nine-coin limit, the maxim bet in the game is $4.50. Players are required to have the maximum of nine coins bet and nine pay lines enabled in order to be eligible for the progressive jackpot, which starts at $40,000.
The progressive jackpot in the Treasure Nile slot game can be won by getting five Pharaohs on the ninth pay line.