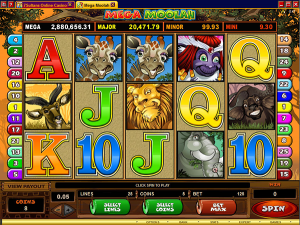 The Mega Moolah progressive jackpot has at long last paid out what could be its biggest prize to date after a wait of almost 26 weeks.
On the evening of Tuesday, 6th October, 2015, a lucky punter hit the jackpot on this progressive jackpot slot game which resulted in him winning a massive sum of £13,212,882 ($20,155,020 or €17,898,736). It is believed that the lucky player was playing in British Pounds at the time of his win although this has not yet been confirmed by the slot game manufacturer Microgaming.
This latest win of £13,212,882 on the Mega Moolah progressive jackpot slot could be the biggest online progressive jackpot win ever, surpassing the €17,861,813 payout on NetEnt's Mega Fortune progressive slot game in 2013.
The massive size of this latest win on the Mega Moolah progressive slot game is believed to be due to the fact that the slot game has taken twice as long as usual to pay out. It is usual for Mega Moolah to pay out on average every 12 weeks and the jackpot on the slot game grew significantly due to the prolonged period.
The Mega Moolah progressive jackpot's seeder fund has seen it once again commencing from £1 million, which is bound to grow quickly once again.
The record breaking judges will soon decide whether this latest Mega Moolah progressive jackpot win beats that of the previous record held.
Mega Moolah is a four-tier progressive jackpot slot game designed by Microgamaing, the most accomplished company in the online casino software business.